4 Tips for Making the Last Week Before Your Wedding as Stress-Free as Possible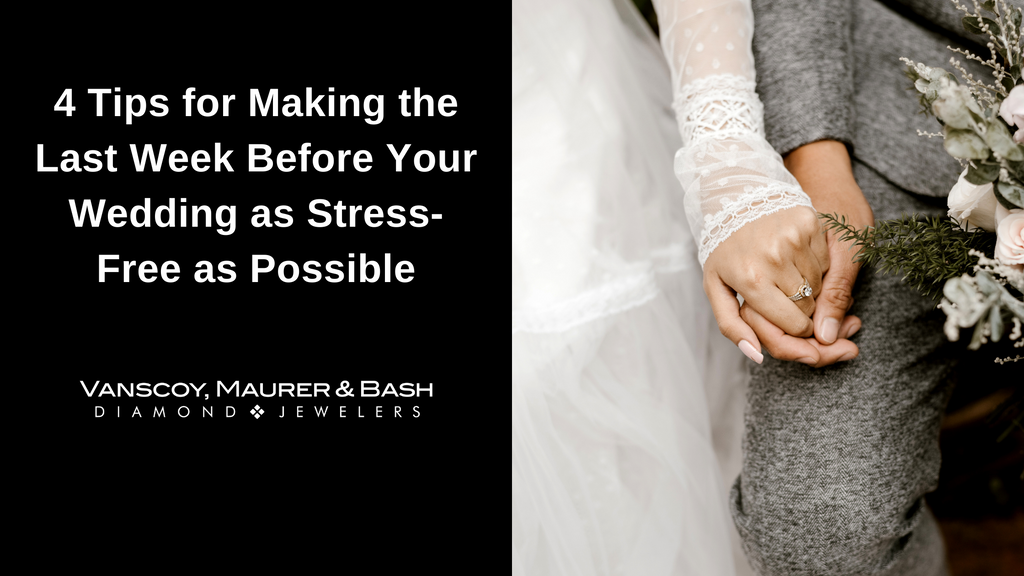 As anyone knows, wedding planning can be extremely stressful. Even if you didn't find the process too anxiety-inducing, you're probably feeling a little nervous the week leading up to your wedding. You realize there are several last minute details to take care of, items to pick up, everything to pack for the big day (and the honeymoon if you're leaving immediately), and questions to field from family and friends. Instead of getting overwhelmed, here are some tips to make it much less stressful so you can fully enjoy the experience and your big day.
Make sure you take enough time off
Some people make the mistake of thinking they can get everything done the morning of their wedding or the day before. You'll save yourself a huge amount of stress if you make sure you take an adequate amount of time off of work in the days leading up to your wedding. Only you know how much time you really need to finish everything and what still needs to be done, but overestimate the time needed for last minute to-dos and allow some buffer time for anything that pops up at the last minute that needs to be taken care of before your wedding day.
Plan out last minute to-dos ahead of time
To ensure you don't forget any major tasks that need to be done and to cut down on any problems that could arise, carefully plan out last minute to-dos during the week leading up to your wedding far ahead of time. Try blocking out an hourly schedule and keep a long list of all the tasks to get done, organized by what is the highest priority. For example, don't forget to pick up your wedding bands (if you haven't already) and get all your jewelry that you'll be wearing for your wedding cleaned! We provide complimentary checks and cleanings that'll take no more than fifteen minutes.
Enlist help
When you're planning everything that needs to get done the week before your wedding, remember that there are people around you who are happy to help with some of the details. Reach out to family members and friends who are part of the bridal party and see what they can help with. It could be something as simple as making a call or looking up a piece of information for you! Remember to ask your groom for help too - there are going to be plenty of errands he can take care of in the days leading up to the wedding! Don't feel like you have to take care of everything yourself.
Schedule time to relax
Most importantly, schedule time to relax. While this tip is far easier said than done, it's vitally important to schedule time to actually relax in the week leading up to your wedding. You might tell yourself that you'll take time for yourself, but if you actually schedule it, you're much more likely to follow through and find relaxation time. Schedule a massage, find time to get breakfast with a close friend, or block out a few hours midweek to watch television and not do anything on your to-do list. No matter how busy you are, there is definitely some time you can block off to take care of yourself.
We want you to be able to relax and enjoy the week leading up to your wedding and the day itself! Please take care of yourself during this time; it's far too easy to get overwhelmed and miss out on the little moments that will make the day wonderful.
If you still need to purchase
wedding bands
, gifts for your wedding party, or other wedding items like personalized cake cutters or engraved champagne flutes, our team here at Vanscoy, Maurer & Bash Diamond Jewelers in Lancaster, PA can help you! Stop by to see the options and ask any questions you may have about jewelry and other details for your big day.