First Sip & Wish Event - Nov. 29th!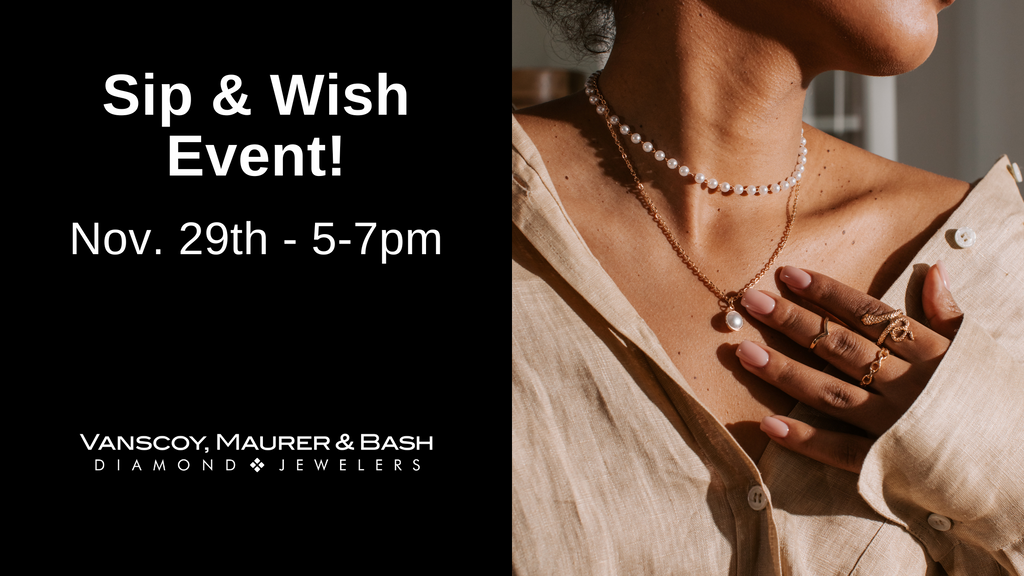 Get ready for our first Sip & Wish event, launching just in time for the holidays!
It'll be the perfect chance to get some incredible items on your wishlist to help family members out with gift ideas, or to simply keep track of some pieces you'd love to get for yourself!
When: Tuesday, Nov., 29th, from 5pm-7pm
What: Sip & Wish - a chance to add pieces to your wish list just in time for the holidays, enjoy some drinks and refreshments, and get pro styling tips. If you bring a friend, you'll get $100 in rewards and they'll get $50!*
Where: Vanscoy, Maurer & Bash Diamond Jewelers, located at 830 Plaza Blvd., Lancaster, PA 17601
If you're not sure what you'd like to add to your wishlist, our fantastic sales associates can help you with some great ideas - we'll even have people on-site to give styling advice for pieces you're looking to buy or already own!
Take advantage of some extra evening hours past our usual 5pm closing time and relax with your friends, enjoying drinks and snacks. Get some rewards added to your account that you can use closer to Christmas, or even after the holidays.
Please call us at 717-299-4283 with any questions! If you can't make it on the 29th, visit us here at Vanscoy, Maurer & Bash Diamond Jewelers in Lancaster, PA at any time during our open hours to add to wishlist!
*Receive $100 max, regardless of how many friends you bring with, but they will each receive $50.