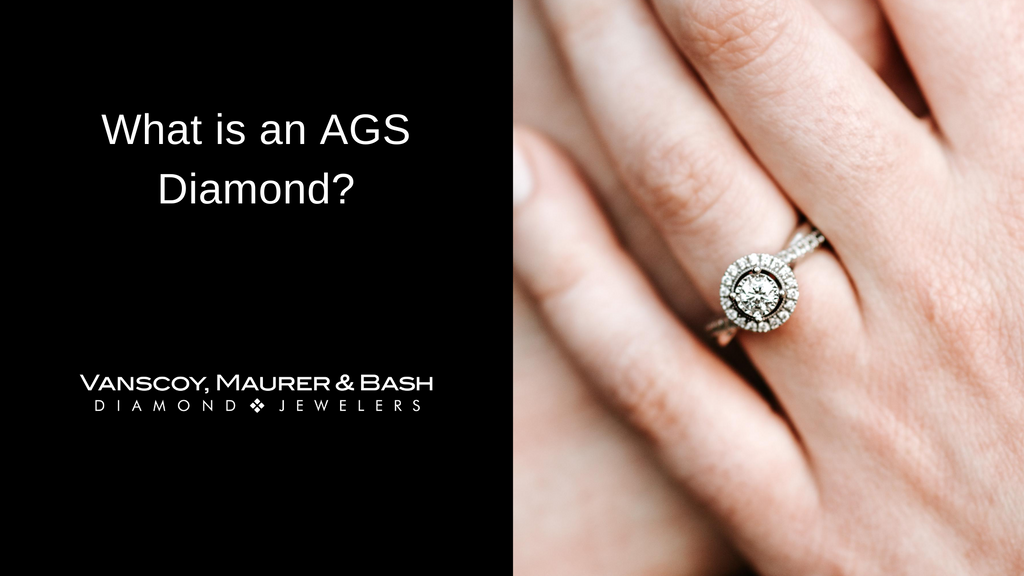 At Vanscoy, Maurer & Bash Diamond Jewelers, we pride ourselves on having top-quality diamonds that we provide to the people of central Pennsylvania. We carry diamonds graded by the American Gem Society (AGS), which means they've been measured against the superior standards set forth by the AGS. When you purchase a diamond with an AGS diamond grading report, you know you're purchasing a quality diamond that's been evaluated by experts. Very few jewelers meet the standards necessary to be a member of the AGS. We are proud to be a member of the American Gem Society, and we go above and beyond what is expected in our industry. When you purchase from an AGS jeweler, you can be confident that you'll be making an informed buying decision and can trust the information and products you're given from your AGS jeweler.
What is the AGS?
The American Gem Society (AGS) is a nonprofit trade association dedicated to promoting ethics and education within the diamond industry, between jewelers, and to consumers. They follow the highest standards in evaluating diamonds and expect the same from their jewelers. The AGS wants to set superior standards in order to better the jewelry industry and provide customers with the assurance and peace of mind that they're investing in a quality piece of jewelry.
The AGS Grading Scale
The AGS grades on a scale of 0-10, with 0 being the best and 10 the worst. A diamond that receives a 0 on the AGS cut grade scale is considered "ideal" in its cut, which is the highest rating a diamond can receive. An AGS diamond that receives a 0 grading of its color is colorless, and a 0 grading of its clarity is flawless, that is, free from internal characteristics.
When evaluating a diamond, the most important feature of the diamond, by far, is the cut. That's what gives the diamonds its 'fire' and 'sparkle'. AGS professionals first grade, in order of importance, the cut of the diamond, then its color, followed by its clarity. You can learn more about the AGS grading system here. 
What Does It Take to Be an AGS Jeweler?
If you want an AGS diamond, you need to find an AGS member jeweler who can help you find the diamond you want. The AGS is careful about the jewelers they choose to carry their diamonds; they want to ensure that their jewelers believe in the same ideals as the AGS.
In order to keep their membership as an AGS jeweler, there are certain ethical practices jewelers must adhere to. Some of these include:
Provide full disclosure of all facts pertaining to the products they sell.

Never intentionally deceive their employees, consumers, vendors, or business partners.

Compete fairly and never speak unprofessionally about their competitors. Likewise, encourage their colleagues in the jewelry industry to embrace these principals.

Resolve any customer complaints relating to the sale of a product.

Not sell conflict diamonds. AGS jewelers must make every effort to fully comply with the Kimberley Process Certification Scheme and the World Diamond Council System of Warranties.

Continue their gemological and jewelry education, always improving their knowledge and keeping up with trends in jewelry and ethical business practices.
These practices ensure that anyone working with an AGS jeweler will be treated with the highest industry standards.

Why You Should Get a Diamond with an AGS Diamond Quality Report
By purchasing a diamond with an AGS diamond grading report, you are assured that you're getting a high-quality diamond that has been expertly evaluated and meets the highest industry standards. You know your diamond will last for a lifetime and beyond and is a quality piece you can take pride in owning and wearing.
At Vanscoy, Maurer & Bash Diamond Jewelers, we hold AGS diamonds in the highest esteem. That's why our own brand of diamonds, the Maurer Star Diamonds, comes with an AGS diamond grading report. They are directly imported from the Fischler Diamond Co. of Antwerp, Belgium. Mark Maurer has worked with Serge Fischler for over 36 years and has spent his entire diamond career closely working with the diamond cutters at Fischler to ensure our diamonds are the best available anywhere. Only the finest cut diamonds qualify to be one of the Maurer Star Diamonds. Each and every diamond is hand-selected and examined in great detail to make sure it meets our exacting standards of excellence.
If you're interested in learning more about the Maurer Star Diamonds and would like to see what we have in store, visit us during our open hours in Lancaster, PA or call at 717-299-4283. We are following CDC guidelines in-store to ensure all customers are safe and comfortable.