Designer Showcase Event - November 9th!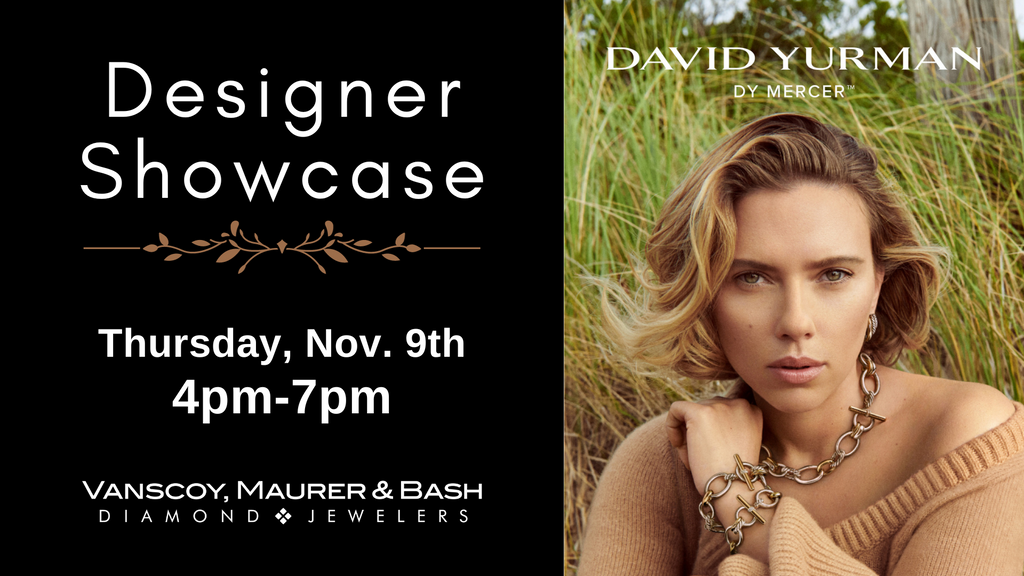 Are you ready to sparkle and shine like never before? Mark your calendars, because the most dazzling event of the season is just around the corner! 
Vanscoy, Maurer & Bash Diamond Jewelers in Lancaster, PA, is rolling out the red carpet for jewelry enthusiasts, fashionistas, and anyone with an eye for exquisite craftsmanship. Get ready for a night of elegance, sophistication, and, of course, plenty of bling!
📅 Save the Date: Thursday, November 9th, 4 pm - 7 pm
✨ Featured Designers: Roberto Coin, David Yurman, Simon G, and more!
Vanscoy, Maurer & Bash Diamond Jewelers is no stranger to hosting remarkable events, and this one promises to be no different. If you've been dreaming about adding a touch of luxury to your jewelry collection, now is the perfect time to make those dreams a reality.
Why You Should Attend:
Picture this: you're surrounded by the exquisite creations of renowned jewelry designers like Roberto Coin, David Yurman, and Simon G. Each piece is a masterpiece, meticulously crafted to perfection. Whether you've been dreaming of an elegant necklace or statement ring, you'll have a chance to explore the best of the best.
With the holiday season approaching, why not get a head start on your gift shopping? Find the perfect present for your loved ones or treat yourself to something special – it's all here.
Feeling a bit overwhelmed? No worries! The experienced and friendly staff at Vanscoy, Maurer & Bash Diamond Jewelers will be right there to help you find the jewelry that truly complements your style and personality.
As you browse through the stunning selection, savor some light refreshments. A sip of champagne can make your shopping experience even more enjoyable.
And here's the cherry on top: exclusive discounts and special offers during the event. This is your chance to score a fantastic deal on a piece that will become a cherished part of your jewelry collection. Appointments are not required, but you can make one!
Now that you know why you should attend, let's take a closer look at some of the featured designers:
🌟 Roberto Coin: Known for his imaginative designs and innovative use of precious gemstones, Roberto Coin's jewelry is a testament to his passion for beauty. His signature hidden ruby gemstone upon each piece symbolizes a wish for happiness and good luck.
🌟 David Yurman: A name synonymous with timeless elegance, David Yurman's creations are loved for their cable motifs and unique combinations of materials. His designs are contemporary yet classic, perfect for those who appreciate both tradition and innovation. As the only David Yurman retailer between Pittsburgh and King of Prussia, this event is one you don't want to miss.
🌟 Simon G: Simon G's jewelry is the epitome of luxury. Each piece is a work of art, featuring intricate details and stunning gemstones. If you're looking for a showstopper, you won't want to miss his collection.
So, what are you waiting for? Mark your calendar, invite your friends, and get ready to immerse yourself in a world of luxury and style at Vanscoy, Maurer & Bash Diamond Jewelers' Designer Showcase Event on Thursday, November 9th, from 4 pm to 8 pm.
Whether you're a seasoned jewelry connoisseur or just looking to add a touch of glamour to your life, this event promises to be a night to remember. Don't miss out on your chance to shine bright this holiday season—join us for an evening of sheer elegance and unforgettable jewelry.
See you there!✨💎🥂