Don't Miss Our Summer BOGO Event!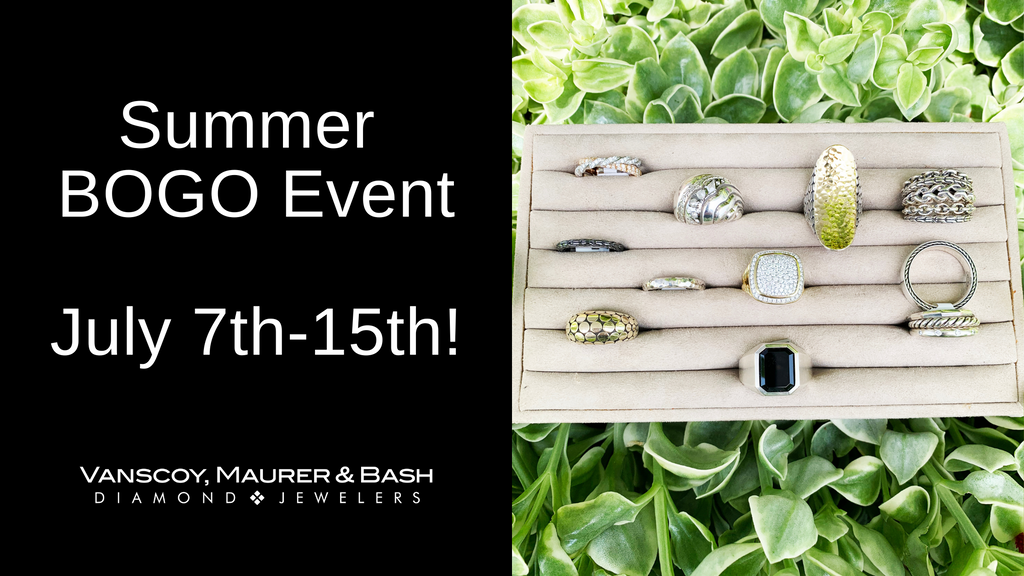 What's better than getting a gorgeous piece of new jewelry? Getting two!
Starting Friday, July 7th and continuing through Saturday, July 15th, we'll be hosting our summer BOGO event. We'll have a selection of fantastic pieces to choose from, all kinds of different types of jewelry. You'll have the chance to choose from bracelets, necklaces, anniversary bands, and even some designer jewelry! Check out our Instgram profile (@vmbjewelers) for specific highlights.
What's better than getting a new necklace? Getting a new pair of earrings with it, for free!
Make sure to pencil in some time to stop by for this great event:
When: Friday, July 7th through Saturday, July 15th
Where: Vanscoy, Maurer & Bash Diamond Jewelers at 830 Plaza Blvd., Lancaster, PA 17601
What: Buy One, Get One sale - choose from a selection of pieces and pay the price on the higher item.
Keep an eye out for specials being offered each day of the event. We'll share more information about them on our social media pages! You don't want to miss this event that gives you the chance to get two high-quality pieces of jewelry for the price of one.
If you make, and keep, an appointment, you'll receive a free gift with purchase. You can schedule your appointment here - just choose "BOGO Event" on the services page.
If you have any questions, please call or text Vanscoy, Maurer & Bash Diamond Jewelers in Lancaster, PA at 717-299-4283.