Gold-Buying Event - August 3rd-5th!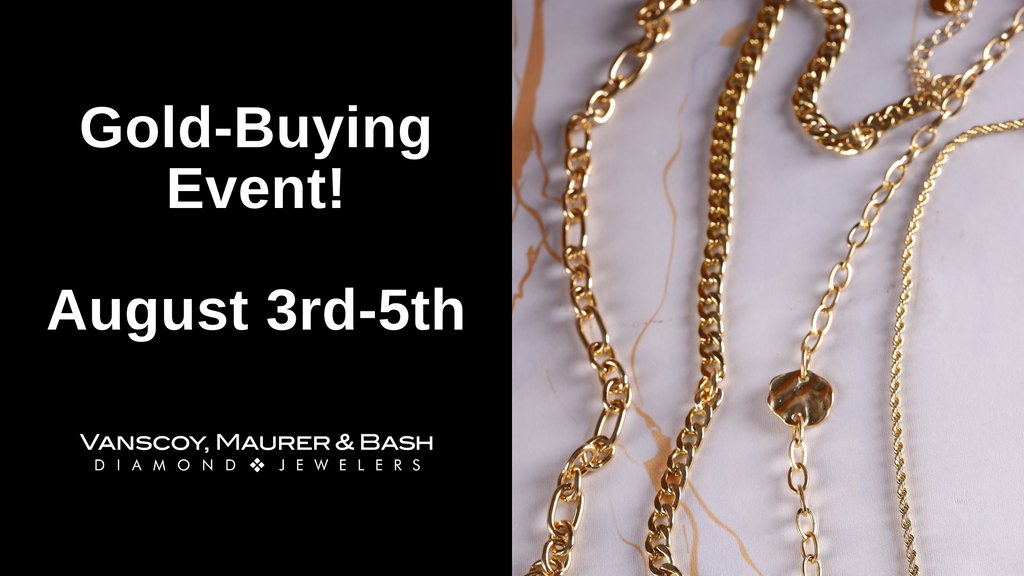 IT'S TIME TO SELL YOUR OLD GOLD JEWELRY!
Special gold-buying days: Thursday, Friday & Saturday, August 3rd through 5th!
Gold is currently over $2000 per ounce - there isn't a better time than now to turn your old, unused jewelry into cash. We'll gladly take white, yellow, or rose gold, any karat weight. Get cash on the spot when you stop by and get a selling appraisal from one of our associates.
We offer free appraisals of the gold value of your jewelry, with no obligation to sell it if you aren't satisfied with our offer or sure you want to part with it. You can think about the offer or choose to receive money the same day.
You can choose to receive cash for your gold OR opt for in-store credit and get an additional 20% credit value for your gold.
Gold is at an all-time high and we know the value your jewelry and other items holds. Whether you're looking for cash because you want to pay off some bills, you want to use that money to trade in for a bigger, sparklier piece, or would love to take a trip to Paris, we're here to help you out!
You are more than welcome to make an appointment to ensure no wait time when you come in to sell your gold, or you can just walk in. When you come in, you'll sit down with one of specially trained sales associates who will walk through the process with you, evaluate and test your gold, and make you a cash offer. It's your choice if you want to accept the offer or not, no obligation.
We also purchase sterling silver, but are not accepting items that are plated in any way.
Why Choose Vanscoy, Maurer & Bash Diamond Jewelers?
The benefits of selling during our gold-buying event:
Get money when you come in

No obligation to sell

Free appraisal of gold value

Offer to trade in for store credit

Additional 20% in store credit

Trusted business to sell with

Discreet and professional

No appointment required

Local, family-owned business
If you have any questions, you can call or text us at 717-299-4283!