How to Choose a Wedding Band that Complements Your Engagement Ring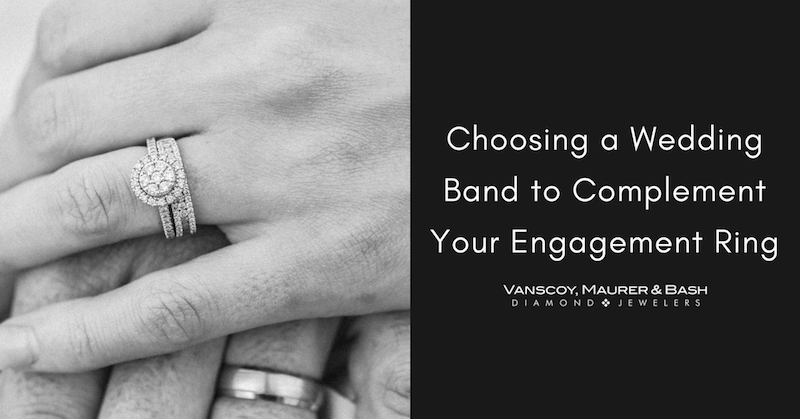 Congratulations! You've said "yes" to the big question! You have a beautiful engagement ring, and now you and your fiancé are ready to look at wedding bands. Many brides-to-be choose bridal sets, in which the jewelry designer creates an engagement ring and wedding band that are meant to go together. However, many also choose to search for wedding bands that are not part of a set.
If you don't choose a set, you still want to pick a wedding band that pairs well with your engagement ring. How do you know what works and what doesn't? Here are some important considerations that will help you find a wedding band that you love just as much as your engagement ring.
METAL
You may want the metals for your wedding band and engagement ring to match. Alternatively, you may want to mix your metals for a look that's more complementary instead of matching. Both options are beautiful. It's very common to mix metals, so don't feel that you have to be traditional and stick to the same metal for both rings. If you wear a lot of jewelry in various metals, this is another reason to choose a band with mixed metals.
STONE
If the stone of your engagement ring is a unique shape—like a pear shape—you should consider opting for a wedding band that's simple. This way, the stone is center stage.
If you prefer to match, pick a wedding band with stone shapes that are similar to what's in your engagement ring. This creates a similar look between the engagement ring and wedding band.
The stone's color is just as important as the shape. If your ring is a blue sapphire like Kate Middleton's engagement ring, you may want to incorporate blue into your wedding band. This will make your engagement ring stone pop.
BAND
Consider the band of your engagement ring. You may want a wedding band in a similar or complementary style. One of the most common combinations is a solitaire setting for your engagement ring and a pavé wedding band. If your style tends to be simpler, you'll probably want a wedding band without gemstones.
In regards to band width, make sure that your engagement and wedding rings are proportionate. If width varies greatly between the two, one ring could overpower the other.
LIFESTYLE AND TASTE
Just like your fiancé put thought into your lifestyle for your engagement ring, do the same when choosing a wedding band. A band with small gemstones may not make sense if you have an active lifestyle.
You don't have to wear your engagement ring and wedding band together, either. If you plan to wear them separately, keep this in mind when choosing your wedding band. You might place more emphasis on finding a band that looks good as a standalone piece.
Just like your engagement ring, your wedding band is a piece you'll love and wear forever. Take the time to find a wedding band that truly fits your style. Try on different options to see what looks best and feels comfortable to you.
Ready to try on wedding bands? Our jewelers can help you find a wedding band that complements your engagement ring. Stop by our store or make an appointment to view our selection of wedding bands!