What You Should Know About Resizing an Engagement Ring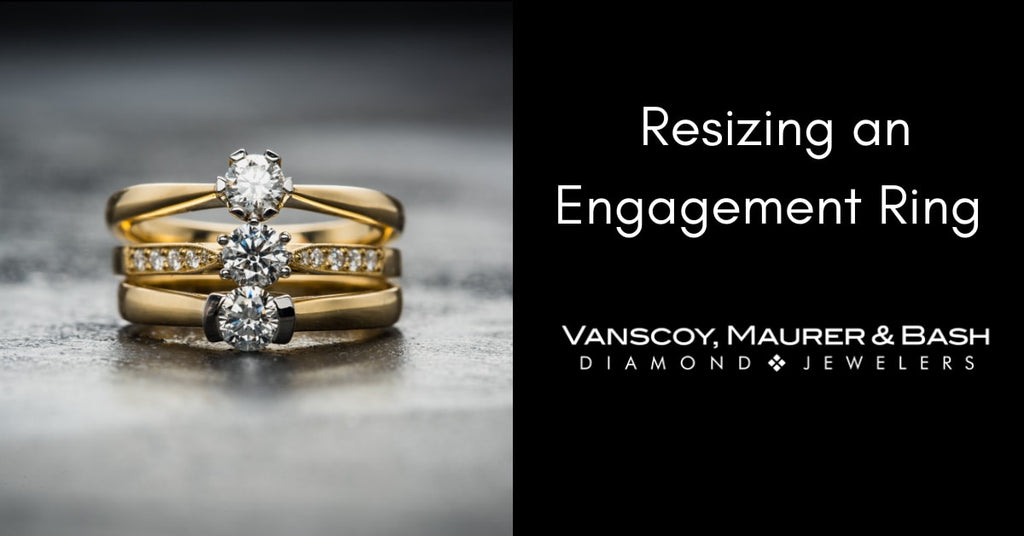 While it's always the hope that your engagement ring will fit correctly, it's common for sizing issues to come up. Your ring size might've changed (e.g., changes in your weight), or your fiancé chose the wrong size. Your engagement ring is something you'll have and wear forever, and it's important that it feels comfortable and secure on your finger.
Fortunately, in most instances, your engagement ring can be resized. Keep reading to learn more about whether or not your ring should be resized, costs associated with resizing, and more.
DOES IT REALLY NEED TO BE RESIZED?
While the ring may not feel right to you immediately, wait a few days before you take the ring to be resized. You may need time to get used to how it feels, and the fit may feel slightly different from one day to the next. For example, little things like temperature variations can impact how your ring feels day to day.
The general rule of thumb is that your ring should slide on, and take about 2-3 seconds to come off. If it's painful to take your ring on and off, or if your ring easily slides off, it could be a sign that you may need to get your engagement ring resized.
A trusted jeweler will also be able to tell you if your ring doesn't fit. Even if you think the ring doesn't feel right, consult a jeweler before you go through the steps of resizing. He or she can also use a sizing ring to measure your ring size.
HOW MUCH CAN YOU CHANGE THE SIZE?
So you've determined you need to resize your ring, but how much can you actually change it? Generally, you can go up or down one to two sizes with your ring. More than two sizes can affect the integrity of your ring. This is important to remember if your fiancé is really unsure of your ring size at the time of purchase.
The design of the ring will also impact how much you can change. For a really ornate design—like a ring with multiple stones—you may not be able to go up two sizes. This is where it's beneficial to work with your jeweler, especially the jeweler you bought the ring from. He or she will know what can be done and guide you in the right direction.
HOW MUCH DOES IT COST TO GET A RING RESIZED?
Some jewelers offer complimentary ring resizing. If it's not complimentary, expect material and scope of work to determine the price. For example, platinum is harder to resize and will cost more than other metals. Yellow gold, on the other hand, is easier to rework and may not cost as much to resize. Remember that the more ornate the engagement ring is, the greater the risk for damage when resizing.
Fortunately, ring resizing doesn't cost as much as you might think. Expect to pay anywhere from $65 to $135 for sizing down, or $90 to $190 for sizing up one size, and $20 to $45 for each additional size. The exact price depends on the factors mentioned above.
HOW LONG WILL IT TAKE?
An experienced jeweler could have your ring resized in as little as an hour if the band is relatively simple. Similar to cost, the ring design, how much you have to change the size, and other factors will affect how long it takes.
One way to reduce time is to get the work done from a jeweler who can do it in-house. You won't have to account for shipping time, so it should be quicker. It's also more likely that the quality of work will be better if it's done in-house as well.
The best way to ensure the ring resizing process goes as smoothly as possible? Working with a trusted jeweler before, during, and after the ring purchase. When you're shopping, ask about after-sales services like resizing. Again, you'll want a jeweler that can do the resizing in-house.
Our customers love knowing that we're not just there for them during the engagement ring buying process, but we're there in the event of resizing, repairs, and ongoing maintenance. Visit us to find out why Central Pennsylvania couples go to Vanscoy, Maurer & Bash for all of their engagement ring needs.