How to Take Proper Care of Your Engagement Ring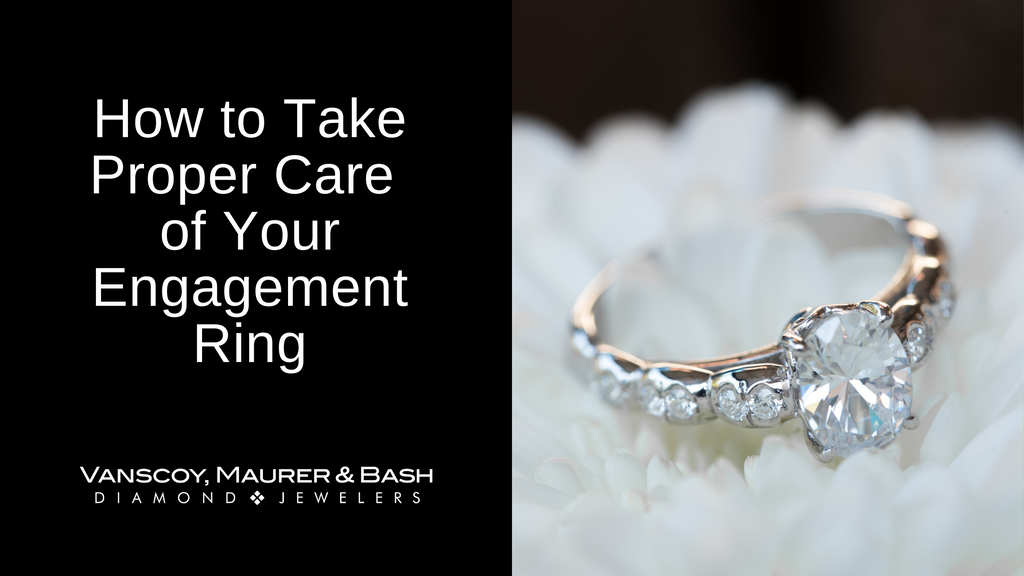 Knowing how to take care of your engagement ring is vital if you want to keep it in the best condition possible. Too many people forget that gold can wear down and need repair. You want to treat your fine jewelry, especially a piece you'll be wearing everyday like your engagement ring, with care. There are various steps you can take at home and with us to make sure your ring stays stunning!
Clean it at home
With the purchase of the engagement ring, we'll give you jewelry cleaner to clean your jewelry at home. Make sure to regularly dip your ring in this solution to get as much dirt as possible off of it. If you're out of cleaner, you can use warm water and dish soap, then scrub the ring with a new toothbrush. You can also purchase small ultrasonic cleaners for use at home, but they won't do the same job as an industrial one like we have in our bench room, which is why it's so important to regularly bring your ring in to be cleaned and checked.
Remove during rough tasks
Many people leave their engagement ring on at all times. We recommend that when you get home at the end of the day, take off all your jewelry. It'll prevent unecessary wear on the gold and the opportunity for damage during household tasks. Designate a place for where you always put your ring and keep it there when you aren't wearing it. We also recommend that you take off your ring while you shower, do household tasks like the dishes or anything involving harsh chemicals, and while working outside.
Regularly bring it in
We offer a complete clean and care plan option for your engagement ring, which includes free cleanings, platings, and repair for certain issues, but we also offer complementary cleanings to any customer that's purchased a ring from us. Bring your ring in at least once a year, or every six months, if you can. Cleanings do not take long and we'll check to ensure your prongs are tight and not worn down and no diamonds are loose or missing. We'll have the ability to clean and shine your ring with our industrial ultrasonic and steamer and it will look brand new when you get it back!
Get insurance
Arguably the most important way to take care of your engagement ring is to make sure you have appropriate insurance on it. Many people choose to put their jewelry onto their homeowner's insurance, which you can absolutely do, but if you ever file a claim, it could raise your insurance rate for your home or even get you kicked off of that insurance. We recommend that people go with a company like Jewelers Mutual, which offers insurance only for jewelry. Then, if you ever loose your ring or a diamond falls out, you can easily replace it without having to worry that it will affect your home insurance.
When you purchase your engagement ring, make sure you ask for an appraisal with it and then update it every 3-5 years. We host regular appraisal events with our in-house certified gemologist, so when you need an updated appraisal, he'll take care of it for you!
If you have any questions about how best to care for your engagement ring, please call or text us at 717-299-4283 or visit our store at 830 Plaza Blvd, Lancaster, PA.