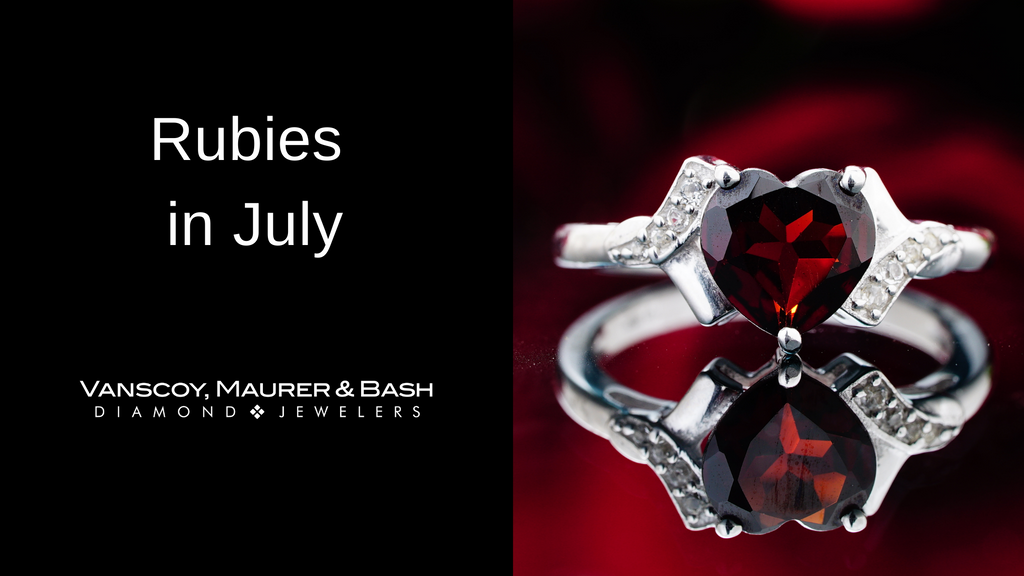 The birthstone for July is rubies! They're also given for the 15th and 40th wedding anniversaries. The ruby is one of the most popular precious gemstones and holds up well when worn daily. Next to fancy color diamonds, rubies are the most expensive gemstones per carat. Whether you're shopping for a piece of ruby jewelry because it's your birthstone, to celebrate an anniversary, or just because, it's a gorgeous gemstone to own!
Facts about the ruby
The ruby is made of corundum, which comes in a variety of colors. It's actually identical to sapphire, but when the gem is red, it's called a ruby. This gem becomes red due to the presence of chromium. This mineral also makes rubies more likely to crack, so you need to be careful to not hit it against something too hard while wearing it. The name "ruby" comes from rubeus, which in Latin means "red." While rubies are red, they can come in a variety of shades, from a vibrant purplish-red to ones with more pinkish tones. A lot of rubies will be treated with heat in order to bring out the color in them. The most prized rubies are those with a deep red hue, known as "pigeon's blood."
Rubies have been found for over 2000 years - the Sanskrit name for them means "the king of all gems." There are only four gemstones that fall into the "precious gemstone" category, of which ruby is one. The others are diamonds, sapphires, and emeralds. They're the hardest gemstones after diamonds, rating a 9 on the Mohs scale.
These gemstones are commonly found in Mozambique, but can also be mined in Afghanistan, Pakistan, Tanzania, Vietnam, Madagascar, and several other countries. In the late 1900s, many quality rubies came from around the border of Thailand and Cambodia. However, perhaps the best known supplier of rubies is Myanmar, in Mogok, known as "the Valley of Rubies." Many of the rubies currently on the market come from Myanmar and will have the most desired hue of pigeon's blood.
Famous rubies
There are many famous rubies that have their own rich stories. The biggest ruby in the world is the Liberty Bell ruby - it was found in Africa and is 8,500 carats. After it was mined, it was carved in one piece into the shape of the Liberty Bell, and is surrounded by diamonds, and topped by a carved eagle, all for the United States' bicentennial in 1976. Unfortunately, it was stolen in 2011 and has never been recovered.
One of the most stunning famous rubies is the DeLong Star ruby. It's named after its original owner, Edith Haggin DeLong, but is now kept at the American Museum of Natural History in D.C., where Ms. DeLong donated it. It is over 100 carats and has a nearly perfect 6-rayed star effect in its center. This ruby was also stolen during a jewelry heist, but was luckily recovered, though it had to be ransomed.
Of course, we must mention Elizabeth Taylor's rubies. Known for her extensive jewelry collection, it's no surprise that she has several pieces containing incredible rubies. Taylor's husband, Richard Burton, is rumored to have promised to find her "the most perfect ruby in the world;" he made good on that promise by buying her a 8.24 carat ruby and diamond gold ring he put in a Christmas stocking. Another husband, Mike Todd, gave her a set of ruby and diamond jewelry, which included a necklace, earrings, and bracelet.
These are just a few of the gorgeous rubies that have their own incredible stories!
Myths around the ruby
After hearing about the intrigue around just a few of the famous rubies, it's no surprise that there's an abundance of myth that accompanies this gemstone. Over time, rubies have represented all kinds of different meanings to people around the world. They're symbols of passion, success, good luck, and love. People believe they can protect you from evil; one of the designer's we carry in our store, Roberto Coin, places a ruby on every one of his pieces so it will come in contact with the wearer's skin, providing them with good luck. In ancient times, warriors would wear rubies on their armor to protect them during battle.
If you're looking for a quality piece of ruby jewelry, either to celebrate your birthday, anniversary, or just because, Vanscoy, Maurer & Bash Diamond Jewelers can help you find something incredible! Stop by our store in Lancaster, PA or call or text us at 717-299-4283.