The Vanscoy, Maurer & Bash Custom Jewelry Design Process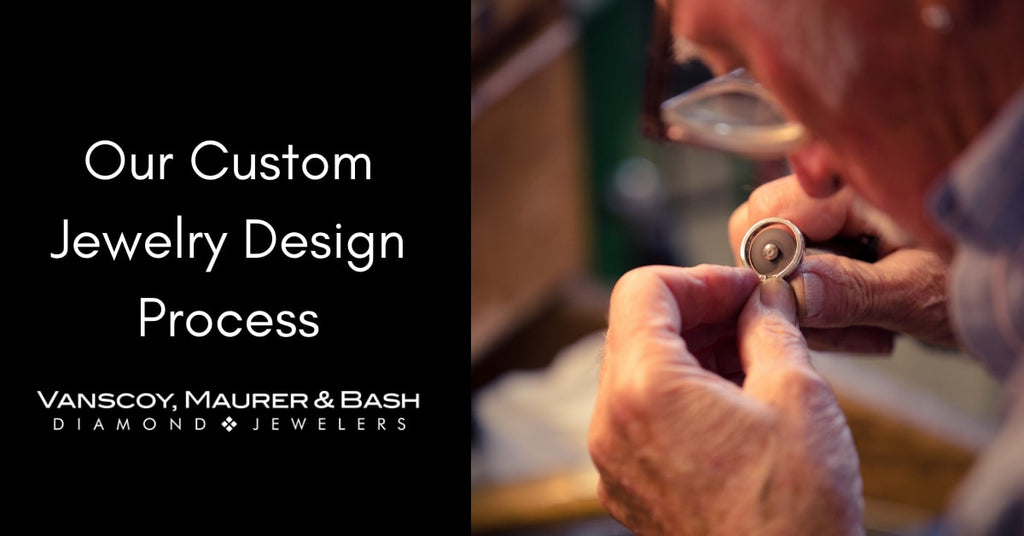 Have you ever considered how exciting it would be to surprise a loved one with a piece of jewelry you designed yourself? At Vanscoy, Maurer & Bash Diamond Jewelers, we make this possible through our trademark custom jewelry design process.
Whether you're looking for a gift for your significant other, or something for yourself, read on to learn about our design process. See how you can get started on creating a piece as unique as your personality!
1. Consultation
Each custom design starts with a consultation where you tell us your vision for the piece. You can provide a sketch, drawing, photos, or simply have a discussion with the designer. This conversation can take place over the phone or in-store, whatever you prefer. If you don't know exactly what you want, that's fine too. We will help you decide on the perfect design by getting to know your personal style and taste.
2. Computer-aided design (CAD) and 3D rendering
Once you decide how you want the jewelry to look, we will create a Computer-aided design (CAD). This design is then turned into a detailed 3D rendering that shows you exactly how the piece will look when completed. We make reviewing your design easy by sending the images right to your email! Should you want to make any changes to the design, you can do so during the CAD and rendering process.
3. Wax mold and casting
Next, the designer creates a wax mold that will be used to cast the ring in the metal type of your choice (usually platinum, gold, or silver).
4. Finishing process
After the metal is cast, the jewelry goes through a polishing process. Then the diamonds and gemstones are set, and the piece goes through a final polishing and inspection. The finished piece is then delivered to the customer. Our experienced jewelry designer can handle the most intricate designs, no matter what details you request!
What types of jewelry can be custom-designed?
We are experienced jewelers who can design any type of jewelry, from necklaces to rings to watches. Our custom designs are perfect for any occasion, but are especially popular for anniversary gifts or engagement rings.
Do you have some questions? Here are some of the frequently asked questions about the design process.
How long does the process take?
It depends on how intricate the piece is and how many other designs we are working on at the time, but you should generally expect the process to take four to six weeks. For this reason, we recommend you start on the design process well in advance so we can guarantee the piece will be ready when you need it.
What makes Vanscoy, Maurer & Bash's process unique?
Our custom design process allows the customer to be as involved as they want to be. Some CAD programs are not customer-friendly, and you must come back often to approve or make changes. Depending on the intricacy of the piece, we can design the item while the customer is in our store and make changes on the spot.
Why would someone choose custom design over jewelry available in-store?
Designing custom jewelry gives you the opportunity to own a one-of-a-kind piece that you helped design and create! It makes a wonderful surprise for a loved one, and allows you to express your creativity.
Does custom cost more than designer jewelry?
In most cases, custom jewelry doesn't cost more than a designer piece, and many times it will actually cost less. Cost is dependent on many factors, such as metal, stones, intricacy, and the time and labor involved.
Let us know if you have a budget in mind. We'll discuss various design considerations that can help you stay within your budget.
What if I don't know what I want?
If you want to create something unique but don't know what you want, we can help! Our designer will talk with you to get an idea of your style, and can make recommendations based on your likes and dislikes. You can always make changes at the CAD stage, so we will work with you to decide on the perfect design!
How do I see what the finished piece will look like?
Through our CAD and 3D renderings, we can show you exactly what the piece will look like before we cast the metal. This process makes it easy to tweak the design and know exactly what you are getting.
Ready to get started?
If you're looking for a unique gift for a loved one, or want to design something for yourself, we invite you to make an appointment or visit us in-store to get started on the custom jewelry design process here at Vanscoy, Maurer & Bash Diamond Jewelers in Lancaster, PA!