Engagement Ring Trends for 2019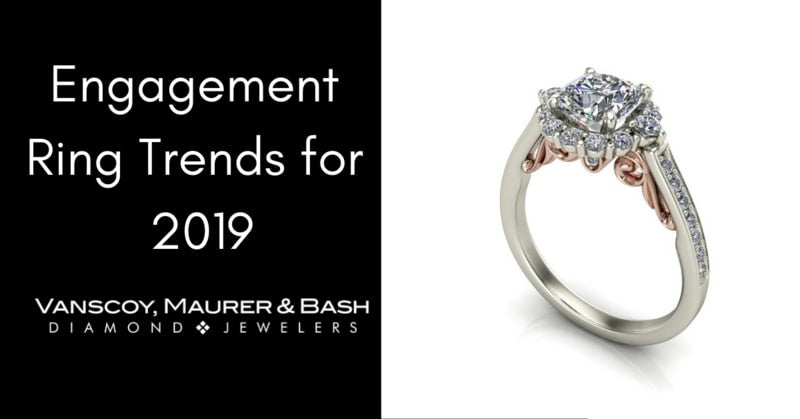 As we head into the new year, fashions change, including engagement ring styles. If you're planning to get engaged in 2019, here are the top engagement ring trends that brides may be interested in.
UNUSUAL DIAMONDS
Celebrities have made non-round diamond shapes popular, including pear, oval, and cushion cuts. For 2019, even more unusual cuts like shield and trillion will be popular. Couples are also opting for stones with imperfections, such as inclusions. The overall goal seems to be a unique ring.
STACKED OR DOUBLE-BANDED RINGS
While it's traditional to have one engagement ring and one wedding band, brides are now wearing multiple bands on either side of the engagement ring for a unique stacked look. A related trend is the double-banded engagement ring. Also known as split shank rings, these rings have two bands that either intertwine or surround the stone.
MODERN THREE-STONE RINGS
The three-stone ring is a classic setting that's getting a new twist for 2019. Designers are now making these rings with unusual diamond shapes and unique accent gemstones, rather than the customary look of three round diamonds.
MIXED METALS
Mixing metals between a wedding band and an engagement ring isn't uncommon, but now couples are picking out engagement rings that mix metals within the ring. It's not uncommon to see a diamond set in a different metal than the band, or even bands that use two different metals. The key with this trend is to choose metals that complement each other, while also keeping in mind how they will look with the stones.
INTRICATE DETAILS
Modern engagement rings are becoming more intricate. For example, designers are adding detailing to the ring gallery, which is an area that is not easily visible. Micro-pave settings are also popular right now, as well as hidden paves.
COLORED ACCENTS
For 2019, brides are choosing unique colored gemstone accents. Some are even opting for a gemstone instead of a diamond in the center stone, or a colored diamond. These pops of color make the ring stand out.
ASYMMETRICAL RINGS
An asymmetrical engagement ring is a bold, unusual look that is trending right now. These rings could feature two diamonds of different shapes, an asymmetrical band, or a stone that is set off-center. The possibilities are endless and the goal is an eye-catching, one-of-a-kind look.
VINTAGE/ANTIQUE RINGS
Antique rings are a popular choice for 2019. Couples appreciate the unique look of these vintage styles. Many of these rings incorporate other features that are big this year, such as unique diamond shapes, intricate detailing, and colored gemstones.
YELLOW OR WHITE GOLD
Two popular types of metals for 2019 are yellow gold and white gold. Yellow gold has long been a classic choice for engagement ring bands. White gold looks very similar to platinum, but is generally less expensive, so it is a great option if you want to go for the look of platinum while staying within your budget.
Vanscoy, Maurer & Bash carries a wide selection of engagement rings. If you can't find what you want, then design the perfect ring with our custom jewelry design process. You can make an appointment or stop in our store to get started with your engagement ring shopping.