Types of Engagement Ring Settings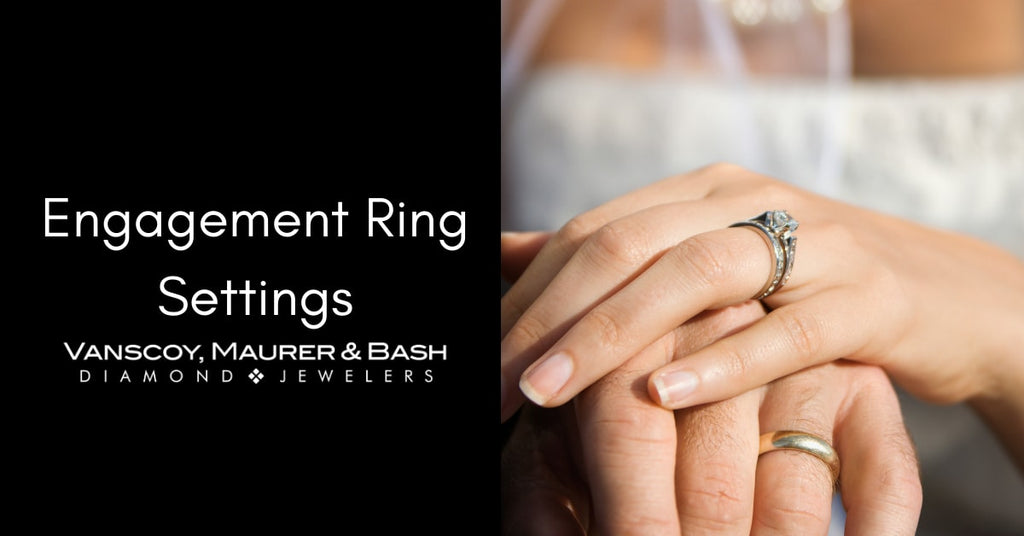 If you're considering getting engaged soon, it's best to start looking at rings well in advance. There are many things to consider, such as a ring that suits her taste and personality. While there are different factors that go into a ring's style, one major part is the setting. Here we explain the different types of settings and how each one affects your ring.
Halo setting
If you've ever seen a center stone wrapped in a circle of diamonds, then you've seen how beautiful halo engagement rings can be. Halo settings are ideal if you want to give your center stone a larger appearance. The circle of diamonds gives the illusion of size. If your stone is a shape other than round, you'll need to go with a cushion halo setting to accommodate the shape.
Solitaire setting
The solitaire setting features one stone in the center of the band, held by either prongs or a bezel. That's it – no other stones or ornaments. It's simple, classic, and timeless. A solitaire ring works best if you have a large or brilliant stone to show off.
Three-stone setting
This is another classic setting, featuring a center stone flanked by two side stones. These side stones can either be smaller than the center stone, or even the same size, but couples often choose the former option and leave the center stone as the focal point. A downside to this setting is that it will require more maintenance, but it can greatly enhance your stone's brilliance.
Tension setting
This is a very unique setting that holds the stone in place by pressing it between the two ends of the band. Since the band needs to fit the exact dimensions of the stone, this setting makes it difficult to resize the ring. An alternative is a tension-style setting that gives the appearance of a tension setting with the added security of prongs or a bezel.
Bezel setting
A bezel setting holds the stone in place using a strip of metal that can either wrap completely around the stone (a full bezel), or leave the sides exposed (a partial bezel). While a full bezel offers maximum security, the partial bezel leaves more of the stone visible. 
Prong setting
This setting uses tiny metal prongs to hold the stone in place. The prong setting is designed to provide as much visibility for the diamond as possible. The more prongs you use, the more secure the stone will be, but at the same time, you don't want to obstruct the view of the stone.
Cathedral setting
A cathedral setting makes the stone appear larger since it sets it above the ring's shank. Unfortunately, this also leaves the stone more vulnerable to damage. This style is lovely and gives a delicate appearance to your ring, but it's not suitable for an active lifestyle. Keep this in mind if you work with your hands a lot.
Channel setting
A channel setting features stones set in a groove, or channel, in the band of the ring. A channel is commonly used to complement the center stone, but it can also stand alone for a minimalist style.
Pave setting
Like a channel setting, pave settings are also often used to complement the center stone. This setting is made by drilling holes into the band, inserting small diamonds, and then holding them with bits of metal. The result is a lovely surface studded with diamonds. The main downside is that pave bands can be very difficult or even impossible to resize, and if they are not made properly, the tiny diamonds can fall out. This type of setting is also not a good option for an active lifestyle.
Choosing the perfect ring for her
While solitaire and halo settings are among the most popular choices, the engagement ring you pick should reflect your significant other's personal sense of style; you do not have to go by what's currently considered trendy. Prong, bezel, and solitaire settings reflect a classic, minimalist style. Halo and pave are perfect for someone with a bolder personality who wants to show off the ring. Something more secure like a channel or tension setting is great for a woman who has an active lifestyle.
Another important aspect of the engagement ring is the shape of the stone. Check out our guide to diamond shapes to help you decide which one is right for your significant other!
At Vanscoy, Maurer & Bash Diamond Jewelers in Lancaster, PA, we're here to help you pick out the perfect engagement ring. Our experienced jewelers can advise you on the best option for your budget and lifestyle. Stop by our store or get in touch to tell us what you're looking for, and let our professionals guide you in your engagement ring shopping!