Vanscoy, Maurer & Bash's Relationship with Fischler Diamonds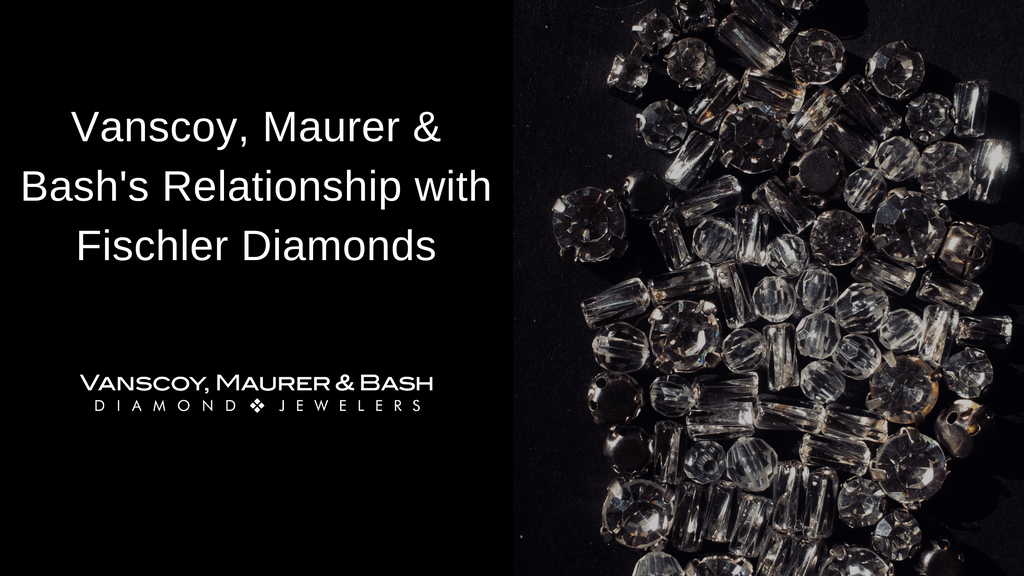 Do you want to know where your diamond comes from and that it was sourced ethically and is conflict-free? Do you want to know that the diamond you're getting is of top quality and has been carefully examined by diamond experts? Vanscoy, Maurer & Bash is proud to have a close relationship with Fischler Diamonds. We've been importing diamonds directly from Fischler Diamonds in Antwerp, Belgium for over 35 years. Building such a tight-knit relationship means we have insight into the process of evaluating and cutting the diamonds and that the relationship has been built on a strong foundation of trust.
The biggest benefit of our relationship with Fischler Diamonds is the ability to handpick the diamonds we want to buy and sell in our store. Our team regularly takes trips to Fischler Diamonds' New York and Belgium offices to choose what diamonds we want to feature in-store and add to our collection of Maurer Star Diamonds. This connection has also allowed the Maurer family to form a relationship with the Fischler family that extends beyond diamonds. 
What this means for you
When diamonds are directly imported from a supplier, it saves you money! We go straight to the source of the diamond supply; instead of working with a middleman, we go straight to the people who are examining and cutting the diamonds. Many chains work with someone known as a "broker," who get their diamonds for them. When working with a broker, it means there are extra costs incurred to pay for that person's work. Even if you can find a diamond for the same price, you're going to have to sacrifice the quality of the gem to make up for the cost.
At Fischler Diamonds, they sort their diamonds into "parcels," which are different groups of diamonds sorted according to their quality. When we choose our diamonds, we get to go to the best parcels and sort through them to find what we want instead of relying on a broker to do this task for us. Once we've chosen those diamonds, they're sent to the American Gem Society (AGS) to be officially graded before we sell them in our stores. Because we're family-owned and work from a single location, we have the luxury of being able to take our time and carefully select the diamonds we want to sell. We do not have to worry about supplying various stores with diamonds and thus lower the quality of the diamonds we choose to meet the demand of supplying many different locations. We can choose the best diamonds for our store.
We can also reach out directly to Fischler Diamonds for a specific type of diamond. If you're looking for a 2 carat pear-cut diamond, but we don't have one currently in the store, we can call up Fischler Diamonds that day and see what they have that they can immediately send us. Even if they don't have the particular size, cut, or quality of diamond you're looking for, they can often cut the diamond for you since they're diamond cutters themselves, though that will take extra time. You can work directly with us and Fischler Diamonds to find the perfect diamond for you and know the people working on the process of cutting and polishing the diamond from start to finish.
Why these diamonds are top quality
You can rest assured that the diamonds we're importing from Belgium are of top quality. Diamonds coming out of Antwerp are known for their quality and the intense process they must go through to be approved and sold. This process is known as the Kimberly Process. The Process ensures that diamonds are conflict-free and demand transparency amongst members.
In addition to sourcing conflict-free diamonds, Fischler Diamonds hold themselves to strict standards when choosing their diamonds. They carefully examine the diamonds and have expert diamond cutters who are responsible for cutting diamonds that stand up to the highest AGS standards.
If you're looking for a conflict-free diamond that is ethically sourced and of the highest quality that meets AGS standards, Vanscoy, Maurer & Bash Diamond Jewelers in Lancaster, PA has what you're looking for. Feel free to ask us any questions about where our diamonds come from and the journey they go through before arriving at our store.