5 Jewelry Gifts to Give If You're Not Ready to Get Engaged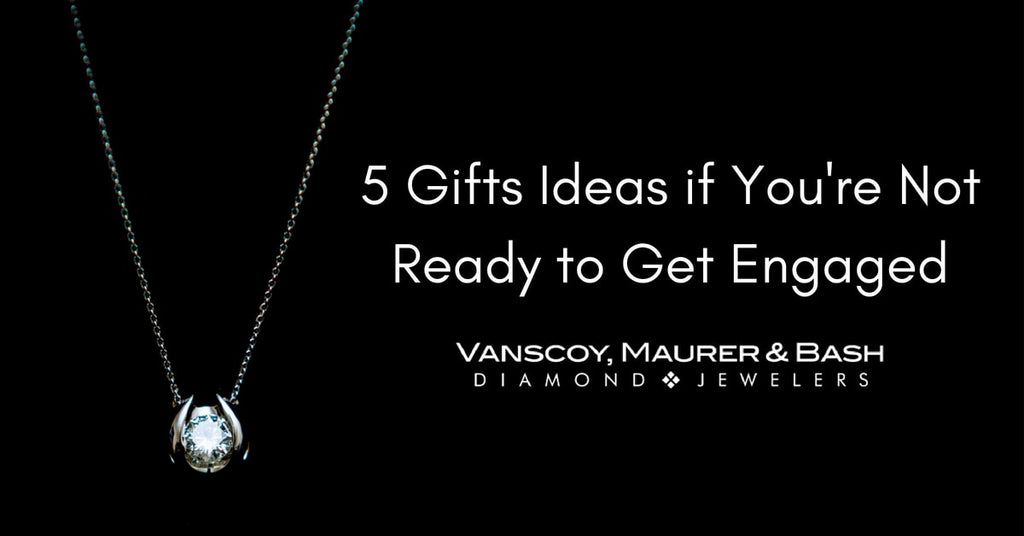 You and your significant other may not be ready to walk down the aisle, but you can still give her a meaningful gift that says, "I love you." And yes, it's even okay to give jewelry! Jewelry is something she'll have and wear forever. Read on for jewelry gift ideas for your significant other that will make the perfect gift this holiday season.
Diamond pendant
A diamond pendant is something she can wear every day. It's versatile, classic, and timeless. For these reasons, she'll know you put a lot of thought into choosing a gift she'll love and appreciate. In fact, we consider a diamond pendant to be one of the six essential pieces of jewelry that every woman should own.
If a diamond pendant doesn't feel right to you, or maybe a diamond isn't her style, opt for her birthstone or another gemstone. Even a sterling silver pendant is a beautiful option.
Diamond earrings
Similar to a diamond pendant, a pair of diamond earrings is just as classic. They never go out of style. Diamond studs are a common choice, but you could also gift her diamond drop earrings or hoops instead. You can't go wrong with any of these, but choose a pair that best fits her style and taste.
Pearl earrings
Maybe diamonds aren't her thing, but her style still leans towards classic. If so, pearl earrings might be the gift for her. Pearl earrings can be dressed up or down, so she'll love that you got her earrings she can wear with everything. Pearls work for every occasion, including holidays, birthdays, and anniversaries.
Designer bracelet
Is there a brand that has always caught her eye? Is she looking to add to a collection that she's already started? Brands like David Yurman and John Hardy carry plenty of classic options that make perfect gifts. You can't go wrong with a cable bracelet from David Yurman (locally exclusive) or a chain bracelet from John Hardy. Stop in our store to see what both designer brands have to offer.
Designer watch
If you're looking for a gift that she wouldn't buy for herself, a designer watch is it. This is especially a great gift to give if she's celebrating a graduation or a new job; however, a watch is suitable for any gifting occasion or holiday.
Regarding the look of the watch, you want to think about choosing a metal that matches the jewelry she wears most often. If she wears silver and gold, look for a watch that has mixed metals. If her style tends to be more casual, she would probably prefer a watch with a leather strap.
Even if you're not ready to pop the question, jewelry is still a great gift to show how much she means to you. Any of these suggestions are appropriate for birthdays, anniversaries, or holidays. Visit our store to shop our selection of fine jewelry gifts, or ask about our personal shopping services if you can't make it in to see us. Once you meet us, you'll learn why many consider us to be their lifelong jeweler.
And when you are ready to pop the question, Vanscoy, Maurer & Bash Diamond Jewelers in Lancaster, PA can help you find an engagement ring that fits her style and your budget!