5 Questions You Should Ask When Shopping for Engagement Rings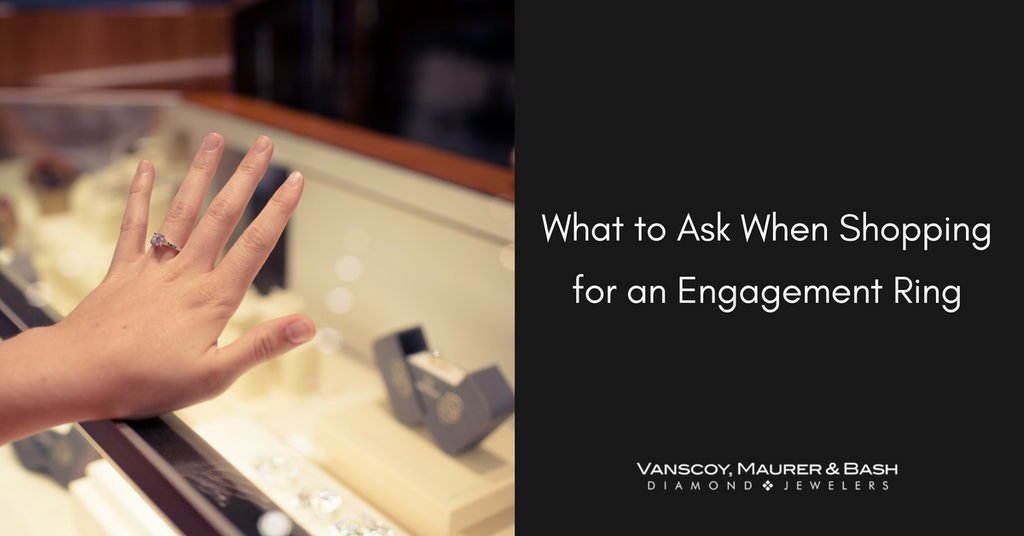 Congratulations! You're ready to buy an engagement ring for your significant other. Shopping for an engagement ring is exciting, but it can also be overwhelming, especially if you haven't shopped for fine jewelry before.
First things first: determine your budget. This will allow you to choose a ring you love without investing in something that's outside of your budget. If you know what you want to spend, your jeweler has an idea of what options he or she can show you right away.
Now that you know your budget, it's time to start looking! As you shop, keep in mind these five questions when buying an engagement ring.
1. WHAT ARE THE STONE'S CHARACTERISTICS?
If you're shopping for a traditional diamond ring, you want to think about cut, color, clarity, and carat weight. Created by the Gemological Institute of America, these are the most important characteristics of the diamond. Here is what each means.
Cut:

 

Cut is often thought of as the shape of the diamond, but it actually refers to the proportions in which the diamond is cut and is what affects light performance. The better the cut, the more your diamond will sparkle!
Color:

 

Diamonds come in a rainbow of colors, but most often yellow and brown. The grading system starts at the letter D and goes all the way down to the letter Z. D-F graded diamonds are colorless, while G-J diamonds are near colorless. The absence of color is more rare. Budget and style will help determine the color grade of your diamond.
Clarity:

 

Clarity is the degree to which the diamond has imperfections.
Carat:

 

Carat is the weight of the diamond.
Having a basic understanding of these characteristics can actually save you money. For example, a 0.90-carat diamond could potentially cost significantly less than a one-carat diamond, but won't appear drastically different to most people.
Ask for the stone's characteristics, especially when comparing different rings. This will help you determine the quality of the diamond, and ultimately help you narrow down what you want.
2. CAN I SEE THE STONE'S GRADING REPORT?
This is another question that will verify the authenticity of the diamond and provide more information about the particular diamond. A trusted jeweler should also be able to explain the report and answer any additional questions you may have. GIA (Gemological Institute of America) and AGS (American Gemological Society) are the two leading, non-profit, grading houses and are the most accurate.
3. WHAT IS THE INTEGRITY OF THE PRECIOUS METAL?
When ring shopping, don't forget to ask about the metal. A reputable jeweler will be able to answer any questions you have. Depending on the metal, you could be paying a lot (platinum is the most expensive), so it's a fair question. Ask to see a stamp that verifies the precious metal content.
4. CAN I MODIFY OR UPGRADE THE RING LATER?
You and your future spouse may decide someday that you want to upgrade the ring or change it. Keep this possibility in mind as you're shopping.
Also, ask how easy it is to resize or repair a ring. Depending on the jeweler's qualifications and expertise, the ring may have to be shipped somewhere else for repairs. It's best to be fully aware of how the jeweler handles repairs and modifications prior to purchasing a ring.
5. DOES THE RING COME WITH AN APPRAISAL?
The engagement ring you purchase is an investment and should be treated as such. Get it appraised and insured right away to protect your investment. Many jewelers offer appraisals as an added service, so you may even be able to get a free appraisal at time of purchase.
If you can get your diamond ring appraised at time of purchase, it's one less item you have to check off your list!
We offer complimentary appraisals at time of purchase, but if you need to update it in a few years or decline the appraisal when you purchase the ring, a new appraisal will start at $100 per piece and vary depending on the intricacy of the piece.
Whether you're ready to pop the question, or just want to see what rings are available, schedule a consultation with Vanscoy, Maurer & Bash. We'd love to help you find the right ring for you!