6 Essential Pieces of Jewelry Every Woman Should Have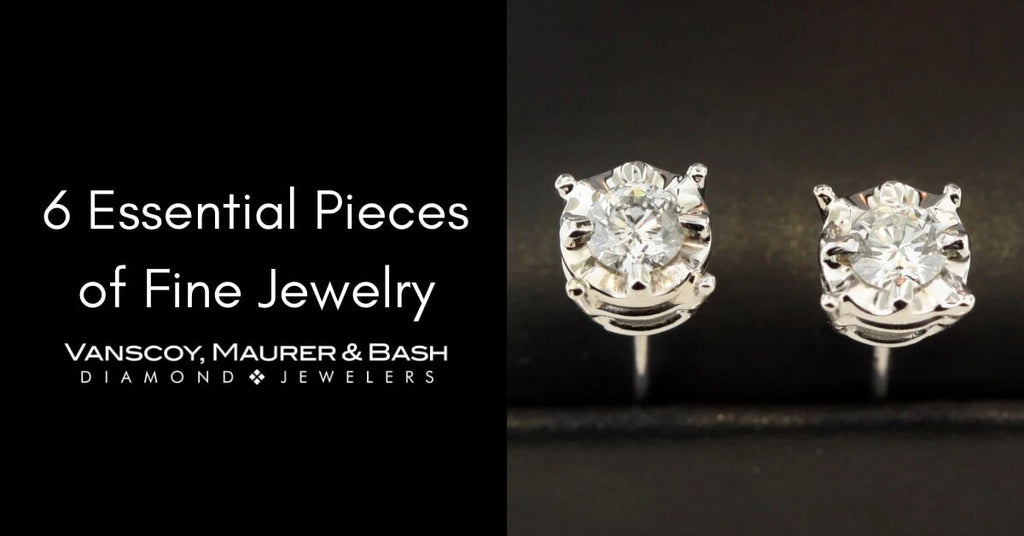 If you're looking for a special gift for your wife or significant other, what could be more romantic than fine jewelry? Jewelry is a very personal gift, though. It can be challenging finding a piece that will suit her taste. To help you in your search, we've identified the six essential pieces of jewelry that every woman should own. Each of these are classic pieces she's guaranteed to love! Even if she does already own them, you can always upgrade one of her pieces!
Diamond stud earrings
Diamond stud earrings are so versatile, she'll be able to wear them every day. Whether she's relaxing at home in sweatpants or dressed up for a night out, these earrings will be a perfect accent to whatever she's wearing and will be appropriate for anything on her schedule that day. 
Diamond pendant
Every woman should own a diamond necklace. A diamond pendant is perfect if you're not sure what type to get, or if her style is more understated. It will go with any outfit she owns, and adds a touch of class and sophistication to her jewelry collection. You can find a wide range of pendants at our store. Whether you're looking for a solitaire, a diamond with a halo, or a more unique design, we can find a piece for you.
Diamond bracelet
A diamond tennis bracelet is another piece that she can wear every day, similar to a pair of diamond earrings or pendant. If she owns all three – earrings, pendant, and bracelet – then she'll have something to wear for any occasion.
Strand of pearls
Diamonds may be considered the most precious stone, but pearls are right beside them in fineness. Every woman needs to own a strand of pearls! There are various colors available, so use her skin tone as a guide. Pearls with warm overtones, such as cream or rose, are best for fair complexions, while cool overtones like silver look beautiful next to darker complexions.
Diamond engagement ring
When your relationship is ready to turn more serious, nothing is classier than a diamond engagement ring. Imagine the look of surprise and delight on her face when you present her with such a timeless ring. If you are already married, then consider upgrading the diamond on her engagement ring as a surprise. We can walk you through the process in our store.
Diamond wedding ring
The wedding ring is the essential piece of jewelry she will wear every single day. Make it the most special piece in her collection by choosing a diamond-studded band. This will tell her your love is as timeless and strong as a diamond!
These six essential pieces of jewelry are the pieces your wife or significant other will wear every day. They serve as the building blocks of her jewelry collection. They also range in price, so no matter what your budget is, you can gift her with a piece she'll truly love. At Vanscoy, Maurer & Bash Diamond Jewelers in Lancaster, PA, we have fine jewelry gifts for every budget!
Surprise her with one of these timeless pieces. She'll think about you every time she wears it! Stop in our store to shop our full selection, or get in touch to tell us what you're looking for today.
Want to learn more about the 6 essential pieces of fine jewelry? Watch our YouTube video for more information!