5 Concrete Pieces of Advice for Choosing an Engagement Ring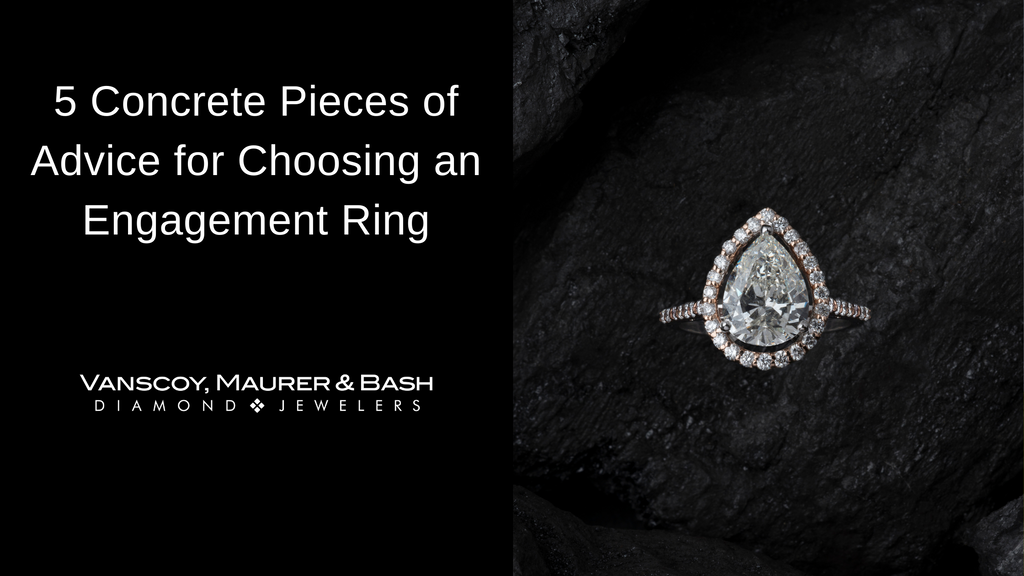 Are you ready to start shopping for engagement rings for your partner? If you know it's time, taking those first few steps can feel daunting, especially if you're looking for the ring on your own. Everyone's journey toward choosing an engagement ring and proposing will be different, but there are some steps that are universally the same. Taking the time to educate yourself on the process and complete these steps will make it less stressful and take much less time.
Talk to your partner (or not)
Before you start your search for an engagement ring, you need to decide whether or not you want to talk to your partner about her preferences. The two of you may have previously discussed your plans for the future, but you might not know what type of ring she prefers. Maybe she's mentioned what she likes before, but you haven't had a clear conversation about the details. It's time for you to decide if you want her to know you're starting your search and then get ideas from her or if you want it to be a total surprise.
Even if you don't talk to her about starting the search for an engagement ring, you can talk to her best friend or a family member who might have an idea about her preferences - or might at least know her ring size!
Do your research
While you should be wary of trusting everything you read on the internet, it's important to do a bit of research before you start looking at rings. There are some basic terms and information you should understand, though once you start talking to a jeweler, they'll help provide you with more in-depth information. Making an in-store visit and working with an actual jeweler at a small business provides many benefits and helps you make a more informed choice.
Take the time to understand basic terms in the industry, like what type of diamond shape you're looking for, the different metals you can choose from for the band, and the 4Cs. Also consider how soon you'd like to propose.
Decide on your budget
One of the first questions you'll be asked when you start engagement ring shopping is what your budget is for the ring. It makes it easier to ensure you're only looking at settings and diamonds within your budget and that you do not go over it. The rule of saving up three months of your salary is no longer definite; you can spend as much or as little on an engagement ring as you want! As long as you're comfortable with the amount of money you're spending and are realistic about what your budget can get, you can find a perfect engagement ring.
Talk to an actual jeweler
We mentioned before that it's important to visit an actual jeweler, particularly at a small, local business. You'll work closely with the person who creates your ring and can speak with them throughout the entire process. It's vital that you work with someone who welcomes your questions and includes you in the process of finding your ideal ring. A small business means that you'll get a higher quality product and great customer service!
Get serious about finding a ring
The final step to the process is to get serious about making a decision. Instead of shopping around and taking weeks to decide on what you want, have a concrete idea of what you're looking for and go find it! Working with a dedicated jeweler who keeps you updated on the process and makes you feel confident in your knowledge and decision makes the process much easier and less time-consuming.
If you're ready to start looking at engagement rings, stop by Vanscoy, Maurer & Bash Diamond Jewelers here in Lancaster, PA! We can answer any questions you may have and walk you through the process. You'll find diamonds and rings to fit your budget and a staff dedicated to helping you find a ring she will love!