Tips for Buying Affordable Fine Jewelry Gifts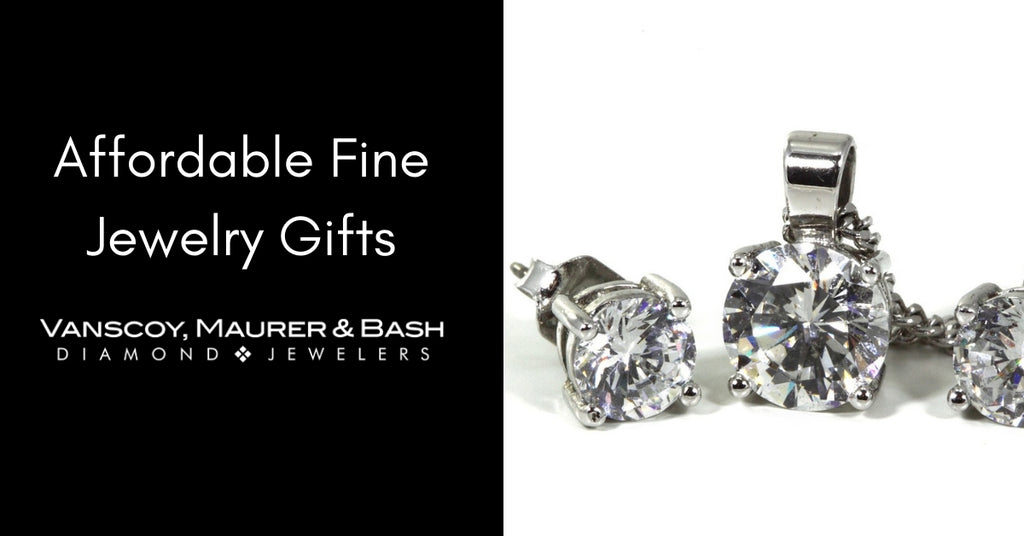 Whatever the occasion, a piece of fine jewelry makes for a stunning gift. Pendants, earrings, watches, and other pieces are the perfect way to show the special someone in your life exactly how you feel.
You may be thinking that a fine piece of jewelry won't fit into your budget, but fine jewelry doesn't have to mean expensive. Here are some tips for finding affordable jewelry gifts for holidays, birthdays, anniversaries, or any occasion.
Know Your Metals
Gold, platinum, and silver are the finest metals you can buy, and their price tags reflect this value. But it can be possible to afford them, even on a budget. Here are some things to know about the metal that goes into jewelry.
Gold
For gold, the purity (measured in karats) largely determines the price. 24k gold is the purest form, and generally 10k is the legal minimum standard in the US to classify the metal as gold. Gold is a soft metal, so it scratches more easily. A lower karat ensures your jewelry will be durable.
Gold in the raw is yellow. To make white gold, white alloy metals such as nickel and zinc are added to give it a more white appearance. All white gold is then Rhodium plated to give it the pure white appearance that platinum has. This is something to think about as far as maintenance goes for white gold.
You could also opt for a gold-filled or gold-plated piece, which involves a thin layer of gold on top of another type of metal.
Platinum
Platinum is more malleable than gold. Most pieces contain 95% platinum. The benefit is that platinum is more durable than gold, in terms of how quickly it wears down, but it also scratches more easily. Because of its purity and because platinum naturally has a white tone to it, it maintains a nice white appearance. If you're looking for a less expensive alternative to platinum, white gold is similar in appearance.
Silver
Silver is more affordable than both gold and platinum, and is a good option if you're on a tight budget. It does tarnish over time. With regular maintenance, however, this precious metal will stay beautiful. Silver has a classic look that will never go out of style!
Other Metals
There are other metals you can use to achieve a similar look without the large price tag. Palladium looks like platinum, but its price is more comparable to that of gold. Stainless steel and titanium have a silver-like shine, but be advised that titanium is hard to work with and will be difficult to resize. Although there are other metals that have a warm tone, like brass and copper, they don't compare to gold in appearance and may not be safe for people with metal allergies. Your best bet is to use gold plating.
Substitute Semi-Precious Stones
Diamonds, rubies, sapphires, and emeralds are all precious stones. If your budget is tight, there are many semi-precious stones available that are less expensive, but just as beautiful. Amethyst, turquoise, garnet, opal, and other types of gemstones can make for a stunning piece of jewelry that keeps you within your budget.
Save on Pearls
If you want to surprise someone with lovely pearl jewelry, there are several ways to save on your purchase. Cultured pearls are much less expensive than natural ones. You can also look for a lower-grade pearl, but mid-grade pearls are a great compromise between value and price. Additionally, freshwater pearls are quite affordable.
For Diamonds, Know the 4Cs
If you love the look of diamond jewelry, there are ways to save without sacrificing quality. Every diamond has 4 characteristics: cut, color, clarity, and carat. You can read more about each attribute here, but what you need to know is that these characteristics work together to determine the value of a diamond.
Ask your jeweler to explain these characteristics to you. He or she can help you compare diamonds to showcase the differences in these characteristics. You'll often find that there may be minimal differences in appearance, but large differences in price.
It is possible to find fine jewelry that's within your budget, and if you work with a trusted jeweler, he or she can show you plenty of options within your budget. Additionally, an expert jeweler can explain different factors that affect price, like type of metal or stone.
At Vanscoy, Maurer & Bash Diamond Jewelers here in Lancaster, PA, we have a variety of fine jewelry to fit any budget! Contact us to tell us what you're looking for, or stop in our store to browse. We hope you'll make us your jewelry shopping destination this holiday season and for all of life's important moments!