6 Wedding Gifts for Your Bride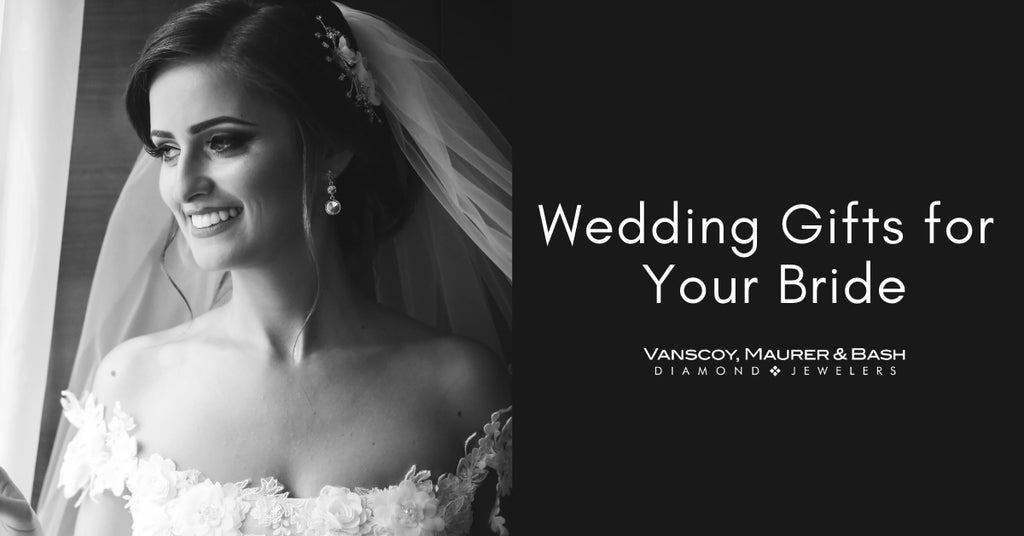 As you're planning the wedding, consider whether you and your bride will exchange gifts in honor of the occasion. This tradition is growing in popularity, and for good reason. It makes for an intimate moment before or after the ceremony and gives you something very tangible that helps you recall the day whenever you see it. If you do decide to exchange gifts, here are some meaningful wedding gifts for your bride.
Wedding day jewelry
If you're exchanging gifts in the morning, surprise her with something special she can wear at the ceremony. Check with her friends first to see if she already has all of her jewelry picked out or if there's room to add something more. Chances are, there will be a piece that she didn't include. You can complete her look with jewelry that will remind her of the big day every time she wears it.
Classic jewelry
Gift her with something classic that she can wear forever. We recommend one of the six essential pieces of jewelry, such as diamond earrings or a pendant. Diamonds are truly classic and don't go out of style. Pearls are likewise a timeless piece that she will always wear.
A piece from her favorite designer
If your bride-to-be has a favorite jewelry designer, surprise her with a piece from their latest collection. This is something that you know she will appreciate, and it shows that you put thought into the gift.
A personalized jewelry box
Instead of adding to her collection, you can give her a special place to keep her favorite jewelry. For a personal touch, inscribe a jewelry box with your wedding date, her name, or a sweet message that reminds her of you every time she reads it.
A family heirloom
Consider gifting her with heirloom jewelry to welcome her into your family. For a fun twist, repurpose the heirloom into a new piece by taking components from it. For example, you could take the stones from an antique ring and put them in a new ring setting with her initials engraved on it.
Custom piece of jewelry
If you're looking for a unique gift for your bride, create a custom piece of jewelry with your wedding date and names engraved on it, or some other special message. Consider adding personalized elements like her favorite gemstone or birth stone. Vanscoy, Maurer & Bash offers custom jewelry design in-store.
If you don't want to create a piece from scratch, you can personalize something you choose to buy. For an extra surprise, take a piece of jewelry she already owns and get it engraved. She will always remember your wedding day when she looks at it.
While these are all great options for a wedding day gift, we think that jewelry is the most classic and timeless way to say, "I love you." Stop in our store in Lancaster, PA to start looking for a truly special wedding day gift for your bride. Or contact us and tell us what you're looking for, and our expert jewelers here at Vanscoy, Maurer & Bash Diamond Jewelers will help you pick out something she'll love.