7 Tips for Purchasing Your Wedding Bands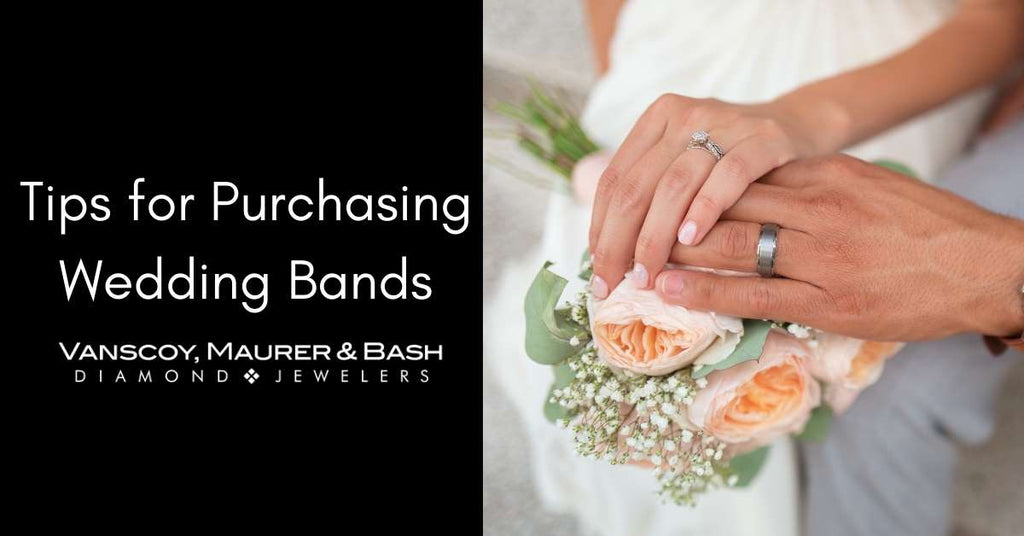 Wedding bands are one of the biggest purchases of your lifetime. You and your spouse will wear these rings every day, and you want them to be a symbol of your love. It's important to pick bands that you'll be proud to wear forever. Here's how to buy wedding bands that you and your spouse will love.
1. Set a Realistic Budget
It's helpful to have a realistic budget in mind before shopping for wedding bands. This allows your jeweler to show you rings that are in your price range, which will save you a lot of time and help you narrow down your search.
2. Start Shopping Early
It's important to start shopping early in the wedding planning process, before the majority of your budget has been spent. This will allow you some flexibility. For example, you might find something you love that's a little higher than what you thought you'd spend.
Starting early will also leave plenty of time for modifications, such as engraving the rings. If you choose to design a custom wedding band, you will generally need to allow four to six weeks for the rings to be completed.
3. Pick the Metal
You can choose from a variety of different metals for your wedding bands. Gold is one of the most popular choices, with variations like rose gold and white gold available. Platinum is also very traditional. If your budget is tight, you might consider sterling silver. When choosing a metal, take into account three main factors: cost, durability, and appearance.
4. Choose a Style
Early on in the process, you may want to keep your options open, but eventually you should narrow it down to a particular style. A plain metal band is traditional, but many couples are getting creative with their bands. If you're looking for something more unique, try a diamond-studded pave or eternity band.
5. Decide on Matching or Complementary Rings
Although the bride and groom traditionally purchase matching wedding bands, it's becoming more common for each individual to choose a band that suits their personal style. If you decide to go this route, keep in mind how the two bands complement each other.
It's also important to consider how the wedding band will look next to the engagement ring. If you plan to wear both at the same time, you will want a band that fits well with the style and size of your engagement ring.
6. Consider Your Lifestyle
You will wear this ring every day, so you should choose something that fits your lifestyle. If you're active, then a delicate pave or eternity band set with multiple stones will likely not be a good option. If you desire a low-maintenance wedding ring, opt for a plain metal band that will be easy to clean.
7. Buy from a Reputable Jeweler
You want to buy your wedding bands from a reputable jeweler who will offer the highest quality for your budget. A good jeweler can become your lifelong jeweler. You will likely return to them for every important occasion, from anniversaries to birthdays and holidays. 
At Vanscoy, Maurer & Bash, we love helping couples find jewelry for life's most important occasions! If you're shopping for wedding bands, we invite you to stop by our store to see our selection, or contact us with any questions.