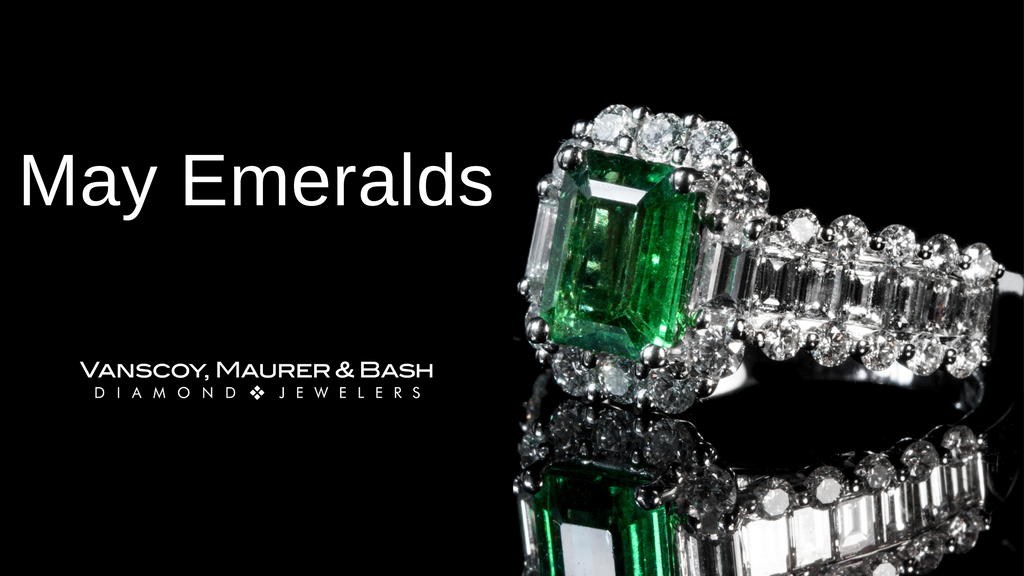 The weather is getting warmer and we're seeing flowers and trees bloom all around us. A perfect gemstone for this time of year, when everything is turning green again, is the emerald. As we see nature burst into vibrant color, this stunning gem is the perfect birthstone for May. The beautiful shades of green can't help but remind you of nature.
Emeralds are a great gem; they're very versatile and can be used in a variety of jewelry and come in many different shades of green. When people think of emeralds, they often think of a lush green color - which is why Ireland is known as "the Emerald Isle"! Learn more about emeralds below and then stop by our store to find a great piece of jewelry featuring emeralds!
Facts about emeralds
Emeralds naturally have a gorgeous green color, but many are also treated to enhance their color. They can be dyed to enhance the color or undergo a process known as "fracture filling" to reduce visible cracks on the surface of the emerald. Emeralds are made out of beryl, like aquamarines and rank as a 7.5 or an 8 on the Mohs scale, making them a bit more susceptible to scratching. While they are still a fairly hard gemstone, special care needs to be taken to ensure an emerald retains its quality. Emeralds should be kept out of extreme heat, rapid changes in air pressure (such as a plane cabin), harsh chemicals, and cannot be cleaned in an ultrasonic cleaner.
In addition to being the birthstone for May, emeralds are also traditionally given for the 20th and 35th wedding anniversaries. Its name comes from the Greek word smaragdos, which simply means "green gem." Various myths revolve around emeralds, including that it possessed therapeutic properties for your eyes, that holding it under your tongue allows you to see into the future, and that it can make you a better public speaker. One of these myths has been proven true; looking at the color green helps lessen eye strain.
The emerald is associated with the goddess Venus, which has caused them to be symbols of romance!
Where are emeralds from?
For more than 500 years, emeralds have come from Columbia; the emeralds from this country are the standard that all other emeralds are currently measured by when assessing their quality. We have evidence of emeralds being mined in Egypt as early as 330 BC, but we think some specimens may be as old as 3 billion years.
Emeralds are found around the world, but other large producers besides Columbia are Brazil, Zambia, Pakistan, and Afghanistan. 
Famous emeralds
Cleopatra is one of the most famous emerald owners, though some believe her famous emeralds could have been peridots. The Crown of the Andes is a legendary piece of emerald jewelry, made with gorgeous emeralds and gold from South America. For a while, the crown was believed to be lost when it sank onboard a ship in the 17th century, but divers later recovered it. Royalty all around the world has worn emeralds for centuries, considering it as a sign of wealth and protection. One of the more modern famous emeralds is Elizabeth Taylor's emerald pendant - it sold for over $6 million in 2011.
Here at Vanscoy, Maurer & Bash Diamond Jewelers in Lancaster, PA, we have many different options for emerald jewelry. Stop by to take a look or call or text us at 717-299-4283 with any questions.