What to Know Before You Get a Jewelry Appraisal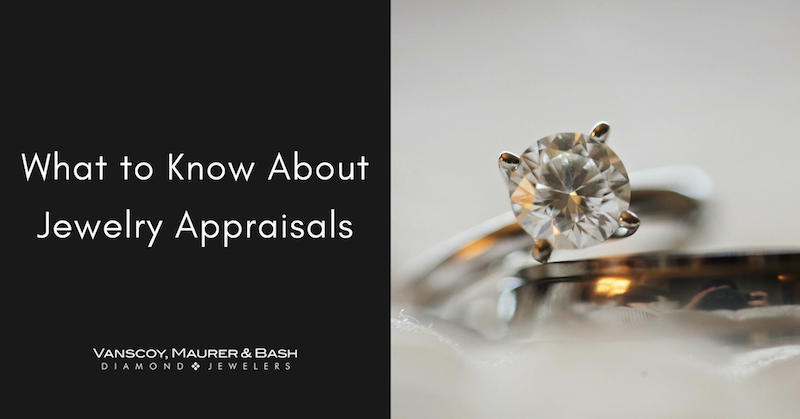 Fine jewelry is one of the most important purchases you'll ever make; it's an investment. At Vanscoy, Maurer & Bash Diamond Jewelers, we recommend getting your jewelry appraised and insured to protect your purchase. Even if you've owned a piece of jewelry for decades, changes in the market mean that you should get an appraisal every three to five years.
Before you get a piece of jewelry appraisal, make sure you understand what an appraisal is, where to get one, and other important details.
What is a jewelry appraisal?
An appraisal is more than just a receipt for your piece; it is a detailed document of what the jewelry is to determine its monetary value. For example, a diamond ring appraisal will include a description of the ring, gemstone information, and much more.
There are a few reasons that people get an appraisal, one of the biggest being for insurance purposes. In most instances, you can't get your jewelry insured without an appraisal. Appraisals are also important for filing an insurance claim; you can't file a claim for a lost or damaged piece without an up-to-date appraisal.
Two other common reasons people get jewelry appraisals are to resell or for tax/estate purposes.
How much does a jewelry appraisal cost?
Some fine jewelry stores will include an appraisal for free at point of purchase. Otherwise, expect to pay a fee, especially if you didn't purchase your jewelry from the same store that is completing the appraisal.
Appraisal fees vary, but typically you'll either pay by the hour or per piece. In terms of cost, Jewelers Mutual says it best - you get what you pay for. If the cost seems too low, it probably is. We offer complimentary appraisals at time of purchase, but to get a new appraisal, our services start at $100 per piece and vary depending on the intricacy and size of the piece.
How long does it take?
Two factors will affect how long it takes: who and how much. One piece of jewelry will take much less time to appraise than if you have multiple pieces. Expect it to typically take anywhere from a few days to about a week depending on how many items need to be appraised. Sometimes we offer same-day appraisals, but usually only during special events or by appointment only.
How often do you need to get one?
Don't assume that an appraisal is a one-time occurrence. As previously mentioned, jewelry values fluctuate. To have the most accurate value, it's important to get it appraised about every three to five years.
Additionally, if your appraisal is for insurance purposes, the insurance company may require you to update your appraisal periodically.
Whether you're newly engaged or want to sell a piece of jewelry, it's easy to get an appraisal at Vanscoy, Maurer & Bash Diamond Jewelers in Lancaster, PA. Contact us with your questions or schedule an appointment with our gemologist to review your coverage and update your appraisals.